Scheduling for Providers of All Types
Primary Care Physicians
Midwives
Certified Nurses Assistant
Nurse Practitioners
Pediatricians
Physician Assistants
Anesthesiologists
Nurse Specialists
Family Practitioners
Save Time on Administrative Tasks
Providers are not administrators, and the more time they spend on administrative tasks—like tracking down the correct on-call provider—the less time they spend being a provider.
That's why Lightning Bolt is designed to automate administrative processes like requesting time off and swapping shifts. With one real-time schedule in place, providers can be confident they are seeing an up-to-date, accurate schedule and know they won't have to spend time correcting or checking it for mistakes.
Inefficient processes for locating on-call providers can be a huge source of dissatisfaction for physicians, care team members, and administrators, contributing to increased turnover.
(NCBI)
Problematic time (the time care team members spend attempting—but failing—to contact the correct provider) consisted of anywhere from 10–40% of total communication time.
(Agency for Healthcare Research and Quality)
Make More Time for Patient Care
Providers practice medicine because they believe in making a difference for patients. When time-consuming, inefficient workflows get in the way of giving the best care possible, providers can face intense frustration.
Providers should spend their time doing what they do best—caring for patients. Let Lightning Bolt do the rest. Lightning Bolt's real-time schedule updates keep providers in the loop on any changes, allowing for patient-centered care at all times.
Communication failures (like identifying the appropriate provider or searching for accurate contact information) are at the root of more than 70% of sentinel events.
(The Joint Commission)
Nurses cited communication issues with physicians as one of the two most highly contributing factors to patient care errors.
(National Council of State Boards of Nursing reports)
How Lightning Bolt Gets to the Root of Provider Burnout
The topic of burnout is heavily discussed these days, and though many solutions aim to lessen its impact, few solve the root problems that lead to provider burnout and dissatisfaction in the first place.
Lightning Bolt tackles one of the heaviest contributors to burnout—inequitable scheduling—and cuts it off at the root.
Providers have the ability to create their own scheduling rules and regulations based on their personalized preferences
Central, visible schedules updated in real-time allow the entire care team to contact the right provider at the right time
Integrated schedules with other essential solutions minimizes click fatigue and reduces the overall amount of solutions used
Providers can manage personal requests like shift swaps and time off
Understanding key metrics helps organizations make better business decisions for providers and patients alike
Teamwork is at the heart of patient care, after all.
"Any software can make a schedule, but Lightning Bolt's software generates a schedule that's optimized for the unique needs of each of the providers."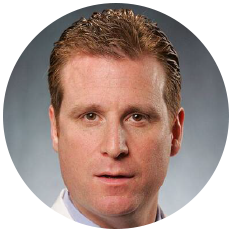 Dr. Kenneth Serio
Scheduling Physician, Scripps Medical Group, La Jolla, CA